This is a small presentation on Pipe Rack and Rack Piping. It will be very helpful for the beginners into piping industry. This article will cover the following points in brief:
INTRODUCTION
PIPE RACK
Pipe Rack design criteria
Shapes
Future Space
Width of Pipe Rack
Clearance
Pipe Rack Loading
RACK PIPING
Positions of Lines (Process & Utilities)
Hot Lines & Cold Lines
Bigger Size Lines
Pipe Spacing
Anchor Bay
Unit Battery Limit
Expansion Loops
Pipe Route
Trays
INTRODUCTION:
A pipe rack is the main artery of a process unit. It connects all equipment with lines that cannot run through adjacent areas. Because it is located in the middle of the most plants, the pipe rack must be erected first, before it becomes obstructed by rows of equipment. Pipe racks carry process, utility piping and also include instrument and electrical cable trays as well as equipment mounted over all of these. Fig. 1 shows a typical pipe rack.
The primary data required for detailed development of a pipe rack :-
Plot Plan
P&ID's
Client Specification
Construction Materials
Fire proofing requirements
Statutory requirements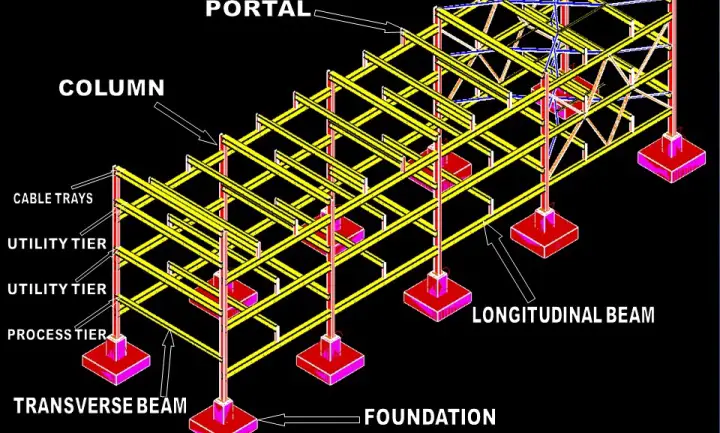 PIPE RACK DESIGN CRITERIA:
There are various shapes of pipe rack like L/T/U/H/Z. These shapes shall be considered based on the area available.
The total width of the pipe rack shall include 25% extra space for future expansion/modification in unit for rack-width up to 16 m and 10% for rack-width above 16 m. The future space %age is normally based on the client requirements.
The width of the rack shall be 6 m, 8 m or 10 m for single bay and 12 m, 16 m or 20 m for double bay having 4 tiers maximum. The spacing between pipe rack portals shall be taken as 6m in general. However it can be increased to 8m depending on the size of the pumps to be housed below pipe rack.
For units, clearance beneath pipe rack shall be 4 m minimum both in longitudinal and transverse directions.
For Offsite, clearance beneath pipe rack shall be 2.2 m minimum both in longitudinal and transverse directions.
Road clearance shall be 7 m for main road and 5 m for secondary road.
RACK WIDTH SELECTION CRITERIA: Refer Fig. 2 for details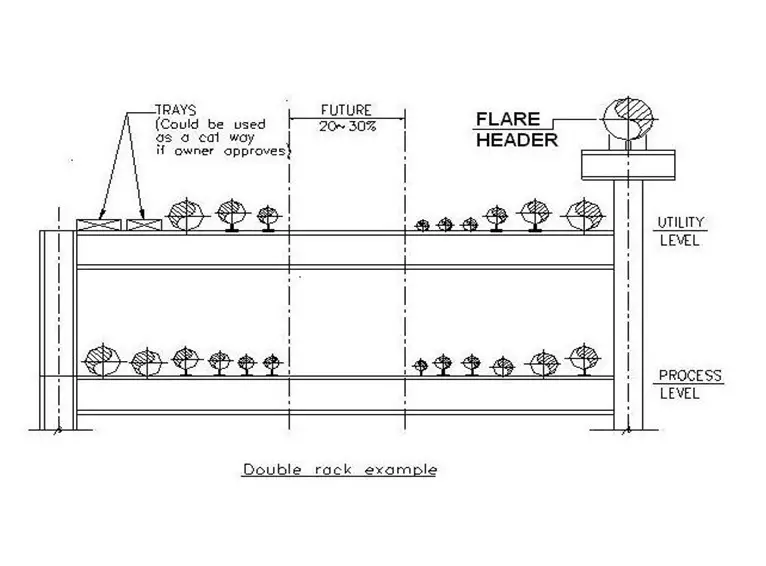 PIPE RACK LOADING :
Pipe rack loads shall be given by stress group to Civil & structural discipline for pipe rack design.
Sustain Load (Dead Load): Weight of piping, valve and load insulation
Thermal Load: Load by thermal expansion of piping & Reaction force by internal pressure of expansion bellows
Dynamic Load
Load by vibration of piping & by wind and earthquake
Sustained Load (Live Load): Liquid load for hydro static pressure test
RACK PIPING:
Position of Lines: Predominantly process lines are to be kept at lower tier and, utility & hot process lines on upper tier.
Hot Lines & Cold Lines: Generally hot lines & cold lines are to kept at different tiers or at different groups on a tier.
Pipe Spacing: Minimum spacing between adjacent lines shall be decided based on O.D. of bigger size flange (minimum rating 300# to be considered), O.D. of the smaller pipe, individual insulation thickness and additional 25mm clearance. Even if flange is not appearing the min. spacing shall be based on above basis only. Actual line spacing, especially at 'L' bend and loop locations, shall take care thermal expansion/thermal contraction/non-expansion of adjacent line. Non-expansion/thermal contraction may stop the free expansion of the adjacent line at 'L' bend location.
Bigger Size Lines: Large size lines (14" and larger) shall be arranged close to the column in order to decrease the bending moment of beam. Water lines more than 30" shall not be routed over pipe rack, these shall be routed underground.
Anchor Bay: Anchors on the racks are to be provided on the anchor bay if the concept of anchor bay is adopted. Otherwise anchor shall be distributed over two to three consecutive bays.
Anchors shall be provided within unit on all hot lines leaving the unit.
Pipe Route: Racks shall be designed to give the piping shortest possible run and to provide clear head rooms over main walkways, secondary walkways and platforms.
Trays: Generally top tier is to be kept for Electrical cable trays (if not provided in underground trench) and Instrument cable ducts/trays. Cable tray laying to take care of necessary clearances for the fire proofing of structure.
Battery Limit (ISBL): Process lines crossing units (within units or from unit to main pipeway) are normally provided with a block valve, spectacle blind and drain valve. Block valves are to be grouped and locations of block valves in vertical run of pipe are preffered. If the block valves have to be located in an overhead pipe-way, staircase access to a platform above the lines shall be provided.
EXPANSION LOOPS (Fig. 3):
Expansion loop is provided on the high temperature lines. This information shall be given by stress group. All the loops shall be located around one column only.
MAKE LINES INTO A GROUP AND INSTALL A LARGE SIZE PIPING AND HIGH TEMPERATURE PIPING TO THE EDGE OF THE RACK
When necessary to install an expansion loop on the condensate line, do it horizontally to prevent water hammering. But do as above if horizontal loop is impossible.
Even though the presentation is not a detailed one still it will be useful for the beginners.

I am a Mechanical Engineer turned into a Piping Engineer. Currently, I work in a reputed MNC as a Senior Piping Stress Engineer. I am very much passionate about blogging and always tried to do unique things. This website is my first venture into the world of blogging with the aim of connecting with other piping engineers around the world.