Every process piping industry uses several pumps in each process unit. Sometimes the analysis is very critical. In this article I will try to elaborate the method followed for stress analysis of a centrifugal pump piping system.  The stress system consists of typical discharge lines of two centrifugal pump (Pump A and Pump B). Fluid from this two pumps are pumped into a heat exchanger. As per P&ID only one pump will operate at a time, other pump will be a stand by pump. I will explain the stress analysis methodology in three parts:- a) Modeling of Pump b) Preparation of analysis Load cases  and c) Analysing the output results.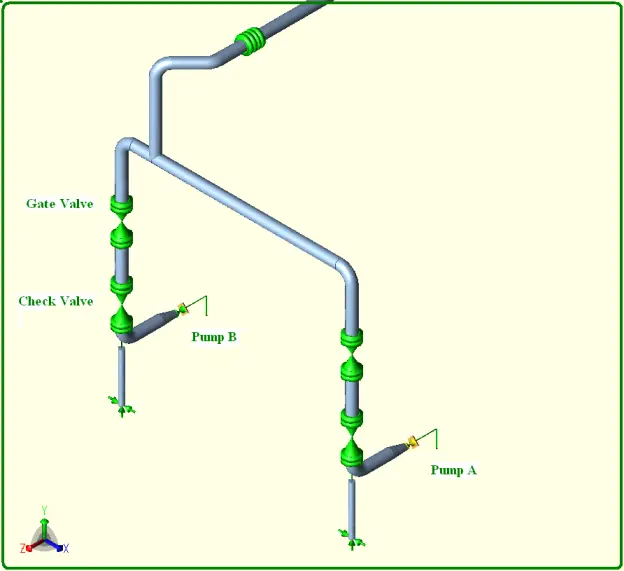 Fig. 1: Sample pump piping model as it looks in Caesar II
A. Modeling of Pump:
For modeling the pump we require vendor general arrangement drawing or outline drawing. All rotary equipments are modeled as a weightless rigid body in Caesar II. From the outline drawing we need to take the dimensions till some fixed point. Let us take the example of the outline drawing shown in figure 2.
                                    Fig. 2: Sample outline drawing for a centrifugal pump
From the above drawing we can get the dimensions for elements 10-5000 as 8.5 inch and element 5000-5020 as 6.19 inch. At node 5020 we will provide fixed anchor. During modeling of the above elements we need to use line size and thickness as diameter and thickness of the equipment. Line temperature and pressures as equipment properties. We have to provide anchor (with cnode) at node 10 for checking nozzle loads which we will compare with the allowable value as provided in Fig. 3 below:
                      Fig. 3: Allowable nozzle load values as mentioned in Equipment GA drawing
In absence of allowable load value the Pump design code (API 610 for API pumps, ANSI HI 9.6.2 for non API pumps) can be followed for the same.
After the pump is modeled as rigid body the piping modeling need to be done from pump-piping interconnection flanges.
B. Preparation of Analysis Load Cases:
Along with normal load cases two additional load cases need to be prepared. Normally in refinery and petrochemical industry one pump operates and other acts as a stand by pump. So we have prepare load cases as follows:
1. Hydrostatic case (WW+HP                    HYD)
2. Operating case with both pump operating (W+T1+P1                  OPE)
3. Operating case with total system in maximum design temperature ( W+T2+P1                  OPE)
4. Operating case with pump A operating and pump B Stand by (W+T3+P1           OPE)
 5. Operating case with pump B operating and pump A Stand by (W+T4+P1           OPE)
6. Operating case with total system in minimum design temperature ( W+T5+P1                  OPE)
Next all normal load cases like static seismic, static wind, etc are to be built as per stress analysis or flexibility specification.
When pump A is in operating condition and pump B stand by then normal pipe operating temperature has to be inserted till Tee connection for pump A and ambient temperature will be the input input for pump B as shown in Fig. 4.  Similarly reverse the input when pump B is operating.
                      Fig. 4: Operating-Stand By Temperature profile for two pump system
After equipment is modeled completely start  modeling the piping following dimensions from piping isometric drawings. Try to make a closed system. Normally pump lines are connected to some vessel, tank or heat exchangers. So it will create a close system. Then run the analysis to check stresses, displacements and loads.
C. Analysing the output Result:
Once Caesar completes its iteration process we can see the output results in output window. At nozzles (the nodes which we anchored with a cnode) we can check the force values. These values we have to compare with the allowable values. If the actual values are less than the allowable values then the nozzle is safe. Otherwise we have the make changes in supporting or routing to bring the nozzle load values within allowables. A sample output restraint is provided in Fig. 5 for your reference.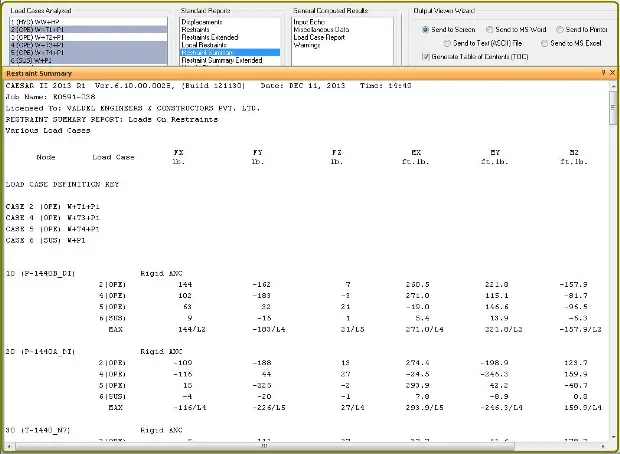 Fig 5. Typical output results for two pump system
As can be seen from the above figure that we are checking nozzle loads in load case 2, 4, 5 and 6. For rotary equipments normally nozzle qualification in design or upset temperature is not required.
Special Consideration for Rotary Equipments:
Now we have to make one separate caesar file and we have to check sustained displacement at nozzle at WNC (weight no content) case. This checking will ensure proper alignment of piping flange and equipment nozzle flange. For detailed analysis steps follow this link: http://www.whatispiping.com/alignment-check-methodology
Always remember to provide first piping support from pump nozzle as an adjustable support (or a spring support) to aid in alignment.
In case of 3 pump system, normally two pumps will be operating and one pump will be stand by. So input and prepare load cases accordingly.
If you have any confusion or want to add more please write in comments section.