Why pipelines?
Safer
Environment friendly
Least energy requirement
Lowest maintenance costs
Minimal impact on land use pattern
Negligible loss of product in transit
High reliability
What can be transported?
Liquids: Crude Oil, Petroleum Products, Petrochemical Products, Chemicals, Water, LPG
Solids(in slurry form): Coal, Ores, Tailings
Gas: Natural Gas, Any other Gas
Sequence of Flow (Fig. 1):
Offshore Pipeline and Riser System (Fig. 2):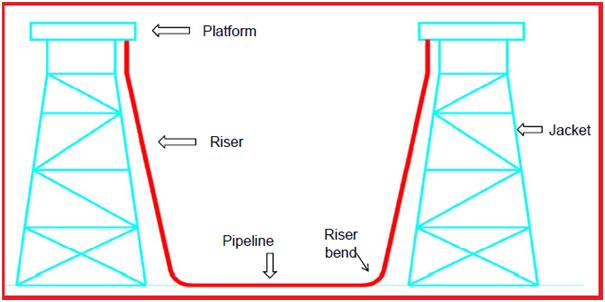 Stages of an Offshore Pipeline Project
Codes & Standards
DnV OS-F101: Det Norske Veritas, Rules for Submarine Pipeline Systems
ASME B 31.8: Gas Transmission and Distribution Piping Systems
ASME B 31.4: Liquid Transportation Systems for Hydrocarbons, LPG and Anhydrous
Ammonia and Alcohols
API 1104: Standard for Welding Pipelines and Related Facilities
API 1110: Pressure Testing of Liquid Petroleum Pipelines
NACE MR 0175: Material Requirements – Sulphide Stress Cracking Resistant Materials for Oil Field Equipment
IP 6 : Institute of Petroleum –Pipeline Safety Code
Stages of a Project
Conceptual Study
Feasibility Study
Basic Engineering
Detailed Engineering
Construction
Testing & Commissioning
Conceptual Study:
Establish System Requirement
Evaluate Constraints on System Design
Identify Interface With Other Systems
Develop Design Data Requirements
Assess Construction Methodology
Finalize the Concept
Feasibility Study:
Evaluate Technical Options
Eliminate Un-viable Options
Firming up of Process Facilities
Develop Broad System Specifications
Establish Project Cost
Plan Project Implementation Scheme
Finalize Process Scheme & Equipments
Basic Engineering:
Environmental & Process Data Review
Pipeline Routing & Size Optimization
Establish Requirements for
Surveys and Investigations
Material of Construction
Preliminary Analysis
Construction, Testing and Commissioning
Develop Implementation Schedule
Safety Aspects:
Environmental Parameter and Soil Data
Pipeline Stability
Shore Approaches
Trenching and Burial
Safety of Existing Facilities
Detailed Design & Engineering
Engineering Design Basis
Route Engineering & Surveys
Engineering analysis and Calculations
Specification and Job Standards
Engineering for Procurement
Drawings for Construction
Installation analysis and Procedures
Design Basis:
Basic Data
Design Codes and Standards
Design Philosophy
Operation and maintenance philosophy
Environmental Criteria
Criteria for engineering analysis
Route Selection:
Routing Considerations
Pipeline length
Sensitive areas
Obstructions
Installation Limitations
Crossings
Drilling Rig Movement / Access
Surveys
Geo-physical & Geo-technical Surveys
Platform Approach / Riser Face Survey
Pipeline Wall Thickness Selection:
Analysis / Calculations
Hoop Stress
Buckle Initiation
Buckle Propagation
Collapse Bucking
Local Buckling
Pipeline Stress Checks
Hoop Stress
Equivalent Stress
Analysis Tools
PC Based Software 'Pipecalc'
Wall Thickness Calculation:
For Offshore Pipelines     t = (PD/2.SMYS.a) + corrosion allowance    where
P is the internal design pressure in psig.
S is the specified minimum yield strength
D is the pipe outside diameter in inches.
t is the nominal wall thickness in inches.
a is the design factor (0.72 for pipeline and 0.5 for riser)
Allowable Stress Limits (Fig. 3):
Types of Line pipes:
Seamless up to 16″
LSAW 18" and above
Engineering Analysis:
Stability Pipeline (Lateral & Vertical)
Pipeline Expansion
Pipeline Spans
Riser
Analysis Tools
PC Based Software 'Pipecalc'
Anti Corrosion Coatings
Coating Anti-Types
Coal Tar Enamel
Fusion Bonded Epoxy
Selection Criteria:
Service Conditions
Performance Record
Ease of Repair
Cost Effectiveness
Compatibility with Concrete Coating
Pipeline Crossing
Exposed Pipelines (Single / Multiple)
Buried Pipelines (Single / Multiple)
Analysis
Permissible Spans (Static & Dynamic)
Stress Analysis
Stability of Supports
Design Tools (Fig. 4):

I am a Mechanical Engineer turned into a Piping Engineer. Currently, I work in a reputed MNC as a Senior Piping Stress Engineer. I am very much passionate about blogging and always tried to do unique things. This website is my first venture into the world of blogging with the aim of connecting with other piping engineers around the world.