A brief presentation on Air Cooled Heat Exchangers
Air Cooled Heat Exchangers are normally used where a process system generates heat which must be removed, for which there is no local use.
They are a "green" solution as compared to cooling towers and shell and tube heat exchangers because they do not require an auxiliary water supply (water lost due to drift and evaporation, plus no water treatment chemicals are required). Where there is a no utility such as water available as a cooling medium
They are usually used when the outlet temperature is more than about 20 deg. F above the maximum expected ambient air temperature. They can be used with closer approach temperatures, but often become expensive compared to a combination of a cooling tower and a water-cooled exchanger. Fig. 1 shows the operating principle of a typical Air Cooled Heat exchanger.
How are they constructed (Refer Fig. 2 and Fig. 3)?
Typically air cooled exchangers consist of a finned tube bundle with rectangular box Headers on both end of the tubes.
Cooling air is provided by one or more fans.
Usually air blows upwards through a horizontal tube bundle.
The fans can be either forced or induced draft depending on whether the air is pushed or pulled through the tube bundle.
The space between the fans and the tube bundle is enclosed by a plenum chamber which directs the air. The whole assembly is usually mounted on legs or a pipe rack.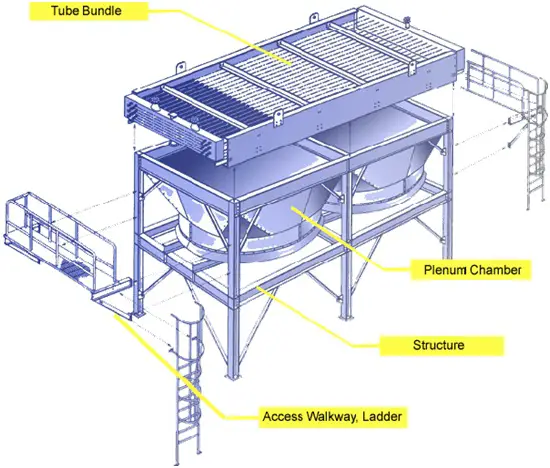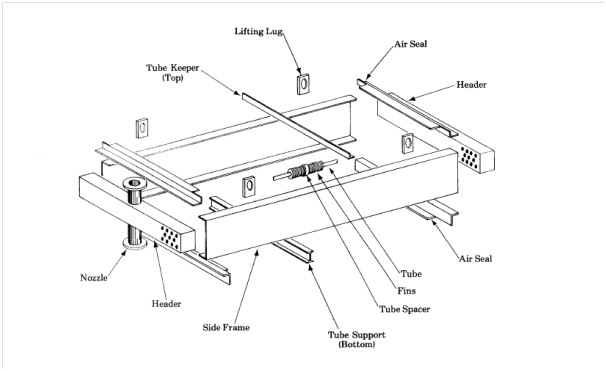 Bay Arrangement in Air Cooler:
one or more tube bundles, serviced by two or more fans, including the structure, plenum and other attendant equipment is called a bay. Refer Fig. 4 for bay arrangements.
What standards are used for air cooled exchangers?
API 661 / ISO 13076 ( Air cooled heat exchangers for general refinery service )
ASME SECT.VIII Div.1 OR Div.2
Shell DEP 31.21.70.31
SHELL DEP special requirement for air cooled exchangers:
The removable Bonnet type Header Shall not be used.
Plug type headers shall be used for all air coolers in hydrocarbon gas or liquid service.
Removable cover plate type headers shall be utilized in auxiliary utility service such as lube oil hot oil, cooling circuit.
Bolted joints (stud construction or flanged construction) shall be designed with confined gaskets
Tubes shall be provided with aluminium fins. The fins for all the air cooler tubes shall be of extruded type with 394 fins per meter
Air Cooler Tubes:
Wall thickness for tubes with an OD of 1 inch (25.4 mm) to 11/2 (38.1 mm) shall not be less than specified in table below: (Fig. 5)
What kind of finned tubes are used?
Fin types
Embedded
Extruded
Footed
Externally bonded
Fin density (FPI) – 7 to 16
Fin height – 3/8 inch to 5/8 inch
Fin thickness – 0.012 to 0.02 inch
Fin Types (Fig. 6):
Fin Selection (Fig. 7):
Refer fig. 7 for limiting temperatures of various types of fins.
Fin Material
Aluminium
Carbon steel
Carbon steel finned tubes can be hot-dip galvanized to prevent corrosion & to provide metallic bond between the fin and the bare tube.
What are Headers?
Headers are the boxes at the ends of the tubes which distribute the fluid from the piping to the tubes.
The cover plate header design shall permit removal of the cover without disturbing header piping connections. Fig. 8 shows a typical construction of tube bundles with removable cover plate headers.
The bonnet header design shall permit removal of the bonnet with the minimum dismantling of header piping connections. FigureÊ3 shows typical construction of tube bundles with removable bonnet headers.
Threaded plug holes shall be provided opposite the ends of each tube for access. Holes shall be threaded to the full depth of the plug sheet or 50 mm (2inch), whichever is less.
Why some coolers are forced draft & some induced draft (Fig. 9) and which one is better?

Mostly air cooled heat exchangers are of forced draft construction. Forced draft units are easier to manufacture and to maintain. Tube bundle is mounted on top of the plenum, so it can be easily removed & replaced. The fan shaft is short since it does not have to extend from the drive unit through the tube bundle and plenum to the fan as in an induced draft design. Forced draft units require slightly less horse power.
Since the fan is moving a lower volume of air at the inlet than they would at the outlet. If the process fluid is very hot, the cooling air is hot at the outlet, this could cause problems with some fans or fan actuators. If the fan is exposed to very hot exhaust air, since forced draft coolers do not have the fans exposed to hot exhaust air.
What kinds of controls are used?
As one might expect the best kind of control scheme depends on the application. Does the process require a very tight control on the process outlet temperature or is it better to allow the process temperature to go down with the ambient air temp. Following is a list of some of the commonly used control devices for air coolers, but in no particular order.
Manually operated louvers
Pneumatically activated automatic variable pitch fans.
Variable frequency fan drive (VFD).
VFD if used shall suit the motor name plate rating and similarly for the Belt Pulley transmission it shall suit the motor name plate rating.